Magnetic Door Stoppers are a must-have for any home.
They're small, compact, and very convenient. They are mounted at the bottom of the door. When the door approaches the wall, the arm is there to catch it and prevent it from slamming into the wall. In addition to keeping the door from slamming into the wall, these stoppers also absorb the force and pressure from impact.
Easily install one with adhesive stickers or the screw provided.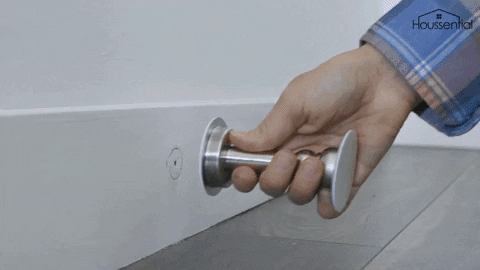 Catches Doors With A Strong Magnetic Catch
Holds Doors In Place
Prevents Doors From Slamming Into Walls
Install At Home Or In Office
Available In Variety Of Colors
Measurements: Door Stop: 3" x 2.2", Catch: .75" x 2.2"
SHIPS FROM LOS ANGELES, CA
*If using adhesives, please be sure you are placing them on a smooth and flat surface. For use with adhesives, please allow 24 hours for the adhesives to settle prior to use. Otherwise you may use the screws which also come included.
If you like that, you'll love these!