If you are worried about slamming doors, consider installing a Black Door Stopper.
 Black Door Stoppers are an excellent solution for preventing doors from closing on you. They have a soft catch feature so you won't hear your doors slam. The door stoppers also easy to apply and remove without leaving any damage on the floor. 
Install one of our Black Door Stoppers with adhesive stickers. You can rest assured of a solid and long-lasting grip. 
If you're not interested in black, we also have a variety of other colors for you to choose from!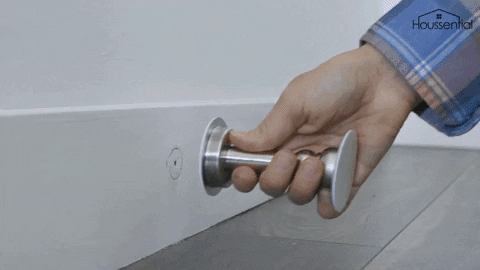 Available In Black, Bronze, Silver & More
Use Strong Adhesive Stickers Or Screws To Install
Conveniently Holds The Door Open For You
Protects Your Walls From Door Handles
Easily Move From Room To Room With Your Hands Full
Measurements: Door Stop: 3" x 2.2", Catch: .75" x 2.2"
SHIPS FROM LOS ANGELES, CA
*If using adhesives, please be sure you are placing them on a smooth and flat surface. For use with adhesives, please allow 24 hours for the adhesives to settle prior to use. Otherwise you may use the screws which also come included.
If you like that, you'll love these!