Simple door stoppers stop the door from slamming into the wall; but what if you want them to

 

stay open?
Our premium door stoppers will help you achieve just that!
Swing the door and it will stop the door from crashing into the wall, or gently push the door open and our premium magnets will hold it in place giving you more mobility to bring in the groceries, move things from place to place, or- just keep the door open! 
Install your door stopper in 5 minutes or less using our adhesive stickers or if you prefer to screw the door stoppers in place, those are included as well!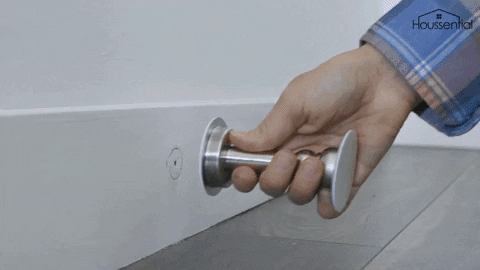 Beautiful Premium Finish

 

will give your home the look it deserves. Check out the 5 different color options to help you match the look of your home.
Use At Home or Office:

 

Use your door stoppers anywhere you'd like!

Stops Door From Slamming into Wall:

 

Our door stoppers have springs installed giving the door the ability to bounce off without damaging it.

Strong Magnetic Catch:

 

The premium magnets built inside the door stopper will hold your door in place.

Easy, Simple Installation:

 

Using strong adhesives (included) you can install the door stoppers in no time! If you'd like to use the screws (also included) you can do that as well. In any case, just follow our easy to follow instructions and feel free to ask us any questions- we are here to assist!
Measurements: Door Stop: 3" x 2.2", Catch: .75" x 2.2"
SHIPS FROM LOS ANGELES, CA
*If using adhesives, please be sure you are placing them on a smooth and flat surface. For use with adhesives, please allow 24 hours for the adhesives to settle prior to use. Otherwise you may use the screws which also come included.
If you like that, you'll love these!